By Tom Ballard, Chief Alliance Officer, PYA
More good news for EDP BioTech Corporation, the Knoxville-based company developing products for early detection of diseases starting with colon cancer. In fact, there are two announcements.
About a month after returning from the "InnoSTARS Competition" held in Suzhou, China, Eric Mayer, Chief Executive Officer, says the company has been invited to join the BioX Acceleration Program offered through Biohub International and focused on business opportunities in the Asian country.
In addition, EDP BioTech and US Capital Global Securities, an affiliate of US Capital Global, are announcing today that the latter is offering to accredited investors a $5 million preferred equity investment in the privately-held medical device company.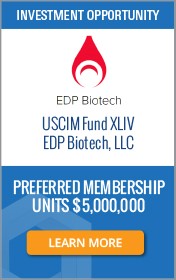 Both opportunities will help the EDP BioTech advance its ColoPlex™ product…Click here for the full article.