A large crowd filled the reception area and several of the other work and lab spaces as EDP BioTech Corporation held an event to shine the spotlight on "Colorectal Cancer Awareness Month" as well as its progress in developing its early detection technology.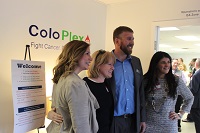 The local company, founded by Tom Boyd, opened the doors of its Baum Drive facility for tours and networking for about 90 minutes late Thursday afternoon ahead of a program spotlighting the importance of early detection.
As Eric Mayer noted in a recent teknovation.biz article, "We're coming out of stealth mode as we get ready to launch our initial product – the ColoPlexTM – in Europe by the end of the year. Not a lot of people outside the tech community locally are aware of us, and this is an opportunity to change that."
Read More Here!