EDP Biotech Corporation News
Follow our progress, be the first to know when ColoPlex™ with marker is available.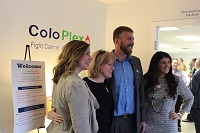 A large crowd filled the reception area and several of the other work and lab spaces as EDP BioTech Corporation held an event to shine the spotlight on "Colorectal Cancer Awareness Month" as well as its progress in developing its early detection technology. The local...