Investors
12/17/2018 – US Capital Global Securities, an affiliate of US Capital Global, is offering to accredited investors a $5 million preferred equity investment in the privately held medical device company, EDP Biotech Corporation ("EDP Biotech").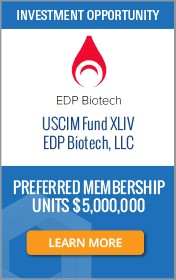 EDP Biotech's first commercial product is ColoPlex™, a new biomarker assay to be used in the early detection of colorectal cancer. EDP Biotech performs research and develops commercialized, in vitro immunodiagnostic products aimed at identifying the early stages of biological changes in humans and animals.
Headquartered in San Francisco, US Capital Global is a full-service private financial group with teams that have an established track record in investment banking and capital raise services. Its registered broker-dealer affiliate, US Capital Global Securities, LLC, is acting as the exclusive placement agent for the equity raise for EDP Biotech.
Click Here for more information and full launch press release.
Contact Us for Additional Information
For additional information on EDP Biotech Corporation or about our products please fill in the requested information. A representative from EDP Biotech Corporation will respond to your inquiry by email or phone. The email address you provide will only be used to respond to your inquiry. We do not sell or share your personal information with outside third parties.
If you are interested in becoming a Distributor visit our Distributor Opportunities Page.
If you have general questions about EDP or ColoPlex™ visit our Contact Us Page.